Trailer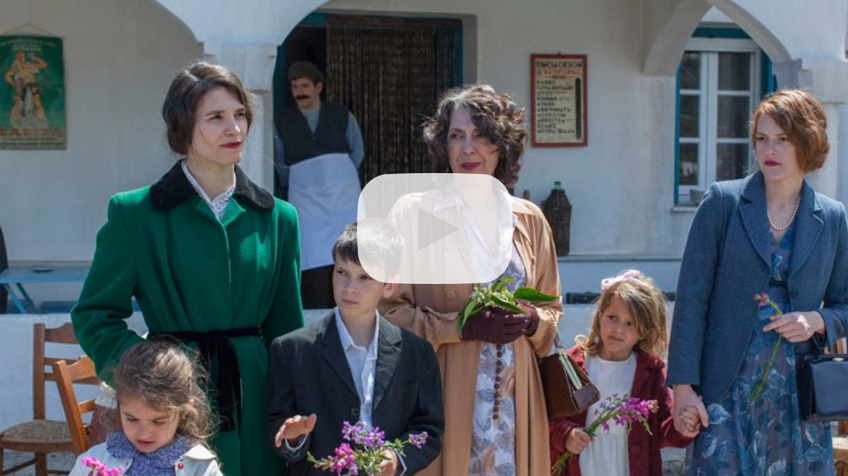 Drama, directed by Pantelis Voulgaris, Greece, 2013, 160 min. Language: Greek with English subtitles.
Cast: Pinelopi Tsilika, Sofia Kokkali, Aneza Papadopoulou, Andreas Constantinou.
TICKETS
Synopsis
It is the Greek island of Andros during World War II where the lives of its women are dominated by long periods of isolation brought on by the seafaring nature of the island's economy. Two sisters – the quiet and reticent Orsa (Pinelopi Tsilika) and the extroverted Moshca (Sofia Kokkali) – become entangled in a love triangle that develops with life-shattering consequences.
A truly lavish period drama, sumptuously photographed by Simos Sarketzis and scored by Katerina Polemi, Little England captures the stark beauty of Andros, weaving breathtaking imagery into a multi-layered and complex storyline.
Awards
Hellenic Film Academy Awards 2014
Best Film: Yiannis Iakovidis
Best Cinematography: Simos Sarketzis
Best Scenography: Antonis Daglidis
Best Costume Design: Yioula Zoiopoulou
Best Sound: Stefanos Efthymiou, Takis Giannopoulos, Kostas Varympopiotis
Best Make-up: Evi Zafiropoulou
Shanghai International Film Festival 2014
Golden Goblet for Best Film
Nominations
Greece's entry for Best Foreign Film at the Oscars
Hellenic Film Academy Awards 2014
Best Actress: Pinelopi Tsilika, Sofia Kokkali
Best Supporting Actor: Christos Kalavrouzos
Best Screenplay: Ioanna Karystiani
Best Editing: Takis Giannopoulos
Best Music: Katerina Polemi
Best Special Effects and Cinematic Innovation: Antonis Kotzias, Angelos Spartalis
Satellite Awards 2014
Best Motion Picture, International Film
Reviews
Boyd van Hoeij, Shanghai Review
'Handsomely mounted and impeccably acted film.'
Read the full review here.